A VIEWPOINT TO FINNISH COMICS BY KARI T. LEPPÄNEN
I have been a Finnish comics artist since 1972 and best known of my artwork of the Phantom comics.
During my childhood and youth I was enthusiastic reader of comics - I read all the comics which I got
in my hands. I was mostly interested of the adventurous comics and started to do my own when I was
only eight years old. When the style of comics in Finland sadly changed during 70s and more repulsi-
ve later and still worse to this day, I was very disappointed of this unpleasant evolution of the comics
future in my country. This article is the result of my bad feeling of what is going on in the business of
comics in Finland. But at first, let us take a look what Finnish comics were earlier ...
In Finnish comic history the first comic ever in Finnish language was a comic book published by
Werner Söderström publisher in 1911. It was called "Professori Itikaisen tutkimusretki" - in English
"The expedition of professor Itikainen".
The book was made by Charles Edouard Ilmari Vainio, who worked in the service of
Finland´s Custom, but was also a illustrator and a teacher. After this book he made
also another one in the following year after his first one.
Two examples from the first book of Vainio. It was drawn more like cartoon
than a natural way of comics. However other Finnish comics after that were
simple cartoon for a long time.
Finnish cartoon made by Heino Aspelin 1908.
Hjalmar Löfving 1925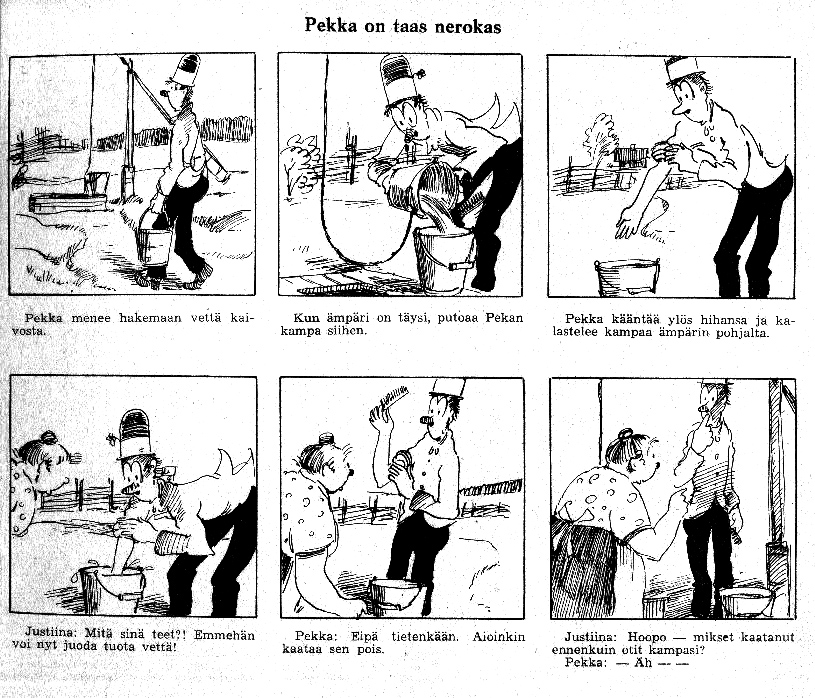 Very popular cartoon Pekka Puupää (Peter Woodhead) was published as long as 1925 - 1975 by a Finnish artist Ola Fo-
gelberg and after his death by his daughter Toto Fogerbeg-Kaila. Based on this cartoon was made several black-and-
white movies during 50s. There will be later more about the funny hat that Pekka is wearing.
In 30s more cartoons, but also comics came into public and the first Finnish adventure-comics were born.
One of the most talented cartoonists was Poika Vesanto :
Poika Vesanto 1934 and the cartoon "Captain and Ville".
Another cartoon made by Poika Vesanto was started 1932 and was his most favored.
It was the only Finnish comic that resembled American cartoon style in that period.
One notable detail in his work was that he started to use bubbles while Finnish car-
toonist during that time were using mostly text under the drawings.
Finnish cartoonist and illustrator Erkki Tanttu made the pictures in a popular cartoon cal-
led RYMY EETU which was another long-lived cartoon published 1930-1973. The text was
in the form of a poem - like another popular Finnish cartoon KIEKU ja Kaiku. This example
of Tanttu´s cartoon is from the year 1944 and below another very loved cartoon made by
artist Asmo Alho and famous Finnish writer Mika Waltari. It run as long as from 1933 till
1975. The text was also in the form of a poem.
Then it was time for more realistic and natural way made adventurous continuing comics
to emerge in Finnish comics genre. A new era of comics in Finland has born.
INSINÖÖRI KARIN SEIKKAILUJA (The adventures of engineer Kari) was one of the
earliest naturalistic comic and this page is from 1938 and made by Eeli Jaatinen. His
main comic work was KESKELLÄ VIIDAKKOA (In the heart of Jungle) and an exmple
of it is below... Jaatinen was also a painter, illustrator and cartoonist and made many
book covers... Although Keskellä viidakkoa was made in 40s Jaatinen still used the
older style not using dialog bubbles.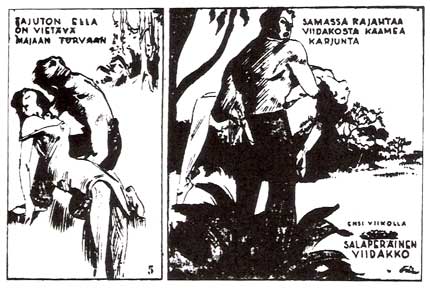 Eeli Jaatinen: Keskellä viidakkoa 1942 - 1943
Soon other artists also brought their natural adventure comics. One was a talented
young artist Kari Suomalainen, who became later famous as a political cartoonist
in Finland`s biggest newspaper.
Kari Suomalainen: Henkensä kaupalla 1942 - 1944 Ami Hauhio: Koltan perintö 1947 - 1950
Kari Suomalainen was in Finland´s Continuation War as a TK-artist and during 1943-
1944 he also made his most known comic "Välskärin kertomuksia" ( The Tales of an
Army Surgeon") after Finnish writer Zacharias Topelius.
The comic was published five years later in a magazine "Lukemista kaikille" and
also later in Helsingin Sanomat newspaper.
Ami Hauhio , a versatile artist was one of the most noted Finnish comic artist of 40s and
50s. He was also the first to introduce science fiction as Finnish-made comic. It was cal-
led MAAN MIES MARSISSA ( An Earthman in Mars) ) and it was published as a continuing
serial in 1940 - 1941. After that he made also other science fiction comics.
Ami Hauhio: MAAN MIES MARSISSA 1949
Another page from MAAN MIES MARSISSA
Another comic of Ami Hauhio : The Last of Mohicans 1951 Also another artist Martti Viitala made comics at same time:
An example from 1947 comic VAAROJA PÄIN.
One of the few Finnish comics artists who made ascience fiction comic was Eugon Meuronen
whose comics-working period was 1942-1965. These two are examples of his artwork.
During 50s , the Golden Era of comics also other Finnish artists made comics and at the same time more
comics were coming from outside countries, mostly from USA , England and also from Italy. This has its effect
to comics made in Finland and only a few artist were good enought to have their works published among the
abundant foreign comics.
Some of the published comic-magazines full of foreign comics from 50s.
A great number of comic magazines were launched in those years, all full of foreign comics and the business
was very popular during those golden days of comics. In 60s when most earlier pioneers of Finnish comics
had gone there was only handful in business and the most known were Tove Jansson with her Moomin and
Veikko Savolainen with his Joonas. As a profession the comic artist was almost unknown until we came to 70s.
Tove Jansson: Moomin 1947 - 1961. After that his brother Lars took care of the comic.
The comic was published in 60 other countries.
Presently died Veikko Savolainen, who used artist-name "Joonas", was my close friend and made a long
career as comics artist. His first comic work was published in 1945 and after that he made many different
comics till his retirement in 80s. Best known are his popular comic "Joonas" and cartoon "Unto uneksija".
Veikko Savolainen: JOONAS Veikko Savolainen: UNTO UNEKSIJA
The decade of 60s was very quiet for Finnish comics. Those few who tried live of making co-
mics were forced to do other illustration works. In late 60s and all 70s underground-comics
magazines were growing which mean that new younger enthusiastic artists had their forum
to have their comics published. Only few of those were professional material, but having their
homemade comics published in those shabby undergroung magazines it strongly urged them
go on with great hopes to be famous.
THEN EVERYTHING CHANGED !
Beginning of 70s a Finnish artistic museum launched a exhibition of comics and
it was a success. Suddenly national comics became to public interest and this
spurred to fond a Finnish Comic Society to support Finnish comics. But most important was
that the biggest company that was selling comics in Finland decided to launch an All-Finnish
comic magazine.
It was called SARJIS ( a shortened slang-word from Finnish word "sarjakuva" which mean
"comics") . The most known Finnish comic artist Veikko Savolainen was the editor of the new
magazine and contacted other professional comic artist who had been working during 60s to
make comics to SARJIS, and handful of new ones from the samples mailed to publisher. Only
six were accepted to make comics to new magazine, and that simply told what the situation
was really in Finland during those days. Only two, editor incuded, were known comics ar-
tists which was the situation in 60s and early 70s. Later a few more was found among the
avalance of comic samples that mail carried to the magazine`s mailbox. Moreover only two of
the artists in SARJIS were drawing realistic, natural type of comics, other were cartoonists.
This phenomenon has always been typical in Finnish comics.
But the publicity of Finnish comics that the magazine spread was a start of new-coming for
national comics in Finland because most of the new artists soon became professionals and
have worked since in the business till this day. They carry on with dignity the tradition of
the pioneers of Finnish comics started from 30s till 60s. Harmless entertaining comics with
no criticism toward anybody nor other means to use comics but just for honest fun. Of cour-
se one of the SARJIS artists was an exception - artist who published political satire albums.
At the same time more underground magazines were publishing growing amount of co-
mic works made by enthuasistic diletants who wanted to be real comic artists. Like home-
made writers Finland was also suddenly full of homemade comics hobbies. Many of those
shabby fanzine magazines were founded by new small comics societes around the country
and the interest of comics and even making those brought diletants and comic fans together
like in a sort of common conspiracy, often despiting the oldfashioned professional comics.
And that was one potential reason for the radical change of comics in Finland.
The story of Finnish comics and the situation to which it led you´ll find from
another subsite by clicking the picture: