THE CURSE OF BLACK ANNIS
The second part of the story Black Dagger is mainly taking place in Scotland where the robbers of
England´s Crown Treasure are hiding with their plunder. In this part is also presented the Queen of
England when inspector Tomkins (known earlier in the Phantom story Orient Express in 1980)
meets Queen Victoria in Buckingham Palace. The queen is very worried about the robbed treasure.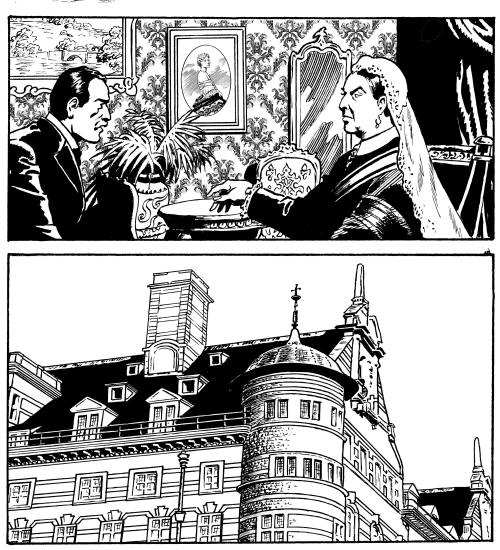 Tomkins and Victoria and also the Old Scotland Yard house.
Tomkins and Phantom locate the place to where robbers have gone and Phantom goes
to Scotland by train.
He reaches Chirnlock Station and heads for the village. But on the way there an
unexpected incident stops them...
A local scotsman stops the wagon, but dies on the arms of Phantom and
then Phantom sees the Black Annis - a famous Scottish witch at first time.
Black Annis or Agnes was a local myth about a bogeyman-type creature who ate
human flesh, but mostly desires children flesh. She had long metal talons and
looks like an old hag. More info is easily found from wikipedia.
In Chirnlock Phantom starts towards the ruins of Chirnlock Castle where the
robbers are supposedly hiding. On the moor he meets Black Annis again when
she kills another local man.
In the castle happen the final engagement between Phantom and Black Dagger gang.
And the secret of Black Annis is revealed. Of course the Treasure is saved too.
Frew cover