This 2018 finished story is not yet published
Claes Reimerthi´s historical Phantom story happen in late 16th Century and is dealing with the threath
of abduction of queen Elizabeth. The pope wants to have Elizabeth to be comdemned of her war against the
catholics in her country and orders Jesuit organization (which has already tried to assasinate the queen)
to abduct the queen of England. The task is given to the same jesuit who tried to assasinate her some years
earlier, but didn´t succeed - the Man with the Silver Nose.
In this 3-part story there are involved a few other persons beside the queen who lived in that period -
William Shakespeare as one of them.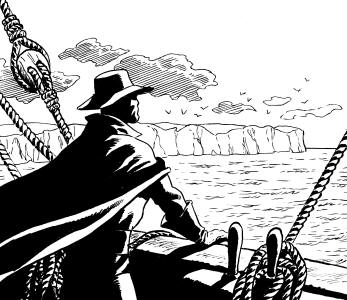 Phantom arrives to England once more. As well as the jesuit assassin Orlando comes with a plan to abduct the queen.
In the palace of the queen her minister Sir Walsingham learns that the notorius Orlando has arrived to England and meantime a bunch of men attacks Phantom, but...
Orlando manages to abduct the queen. Phantom arrives in a coastal town where a visiting theatre has just arriving.
Then Phantom finally meets again Orlando who now has a Silver Nose after a dual accident.
It is obvious who wins...
There are two parts coming to fullfill this whole story, but before that
I am going to illustrate another story called:
THE TREASURE OF JEAN lAFITTE
Has been finished on April 7th 2019
This story deals with the lost treasure of Jean Lafitte, a French pirate from early
18th Century who robbed ships on the Gulf of Mexico and became famous defen-
ding New Orleans when English besieged it.
In this story written by Claes Reimerhi the clue to where to look for Lafitte´s trea-
sure is found in a mansion of Diana Palmer´s friend. A hurricane reaped a wall of
the house where a cofre containing a paper written by Lafitte was found.
When a local TV company gets a clue about the case also local gansters became
interested and abduct both Diana and her friend and also an archaeologist who
found out that the supposed treasure should be hidden on an island in Mississip-
pi Delta.

The bunch of gansters load their prisoners aboard a motor cruiser and head for the
island called "The Poor Sister´s Island" where a ruined nunnery is waiting for them.
In this story the Phantom first appearance happens on page 8, but he really come to
involved with the story only in the middle of 24-page adventure when he tries to find
the nunnery island in the middle of night and heavy rain.
What happens then you´ll read it yourself. I must say that I was not very inspired to
illustrate this particular story because there was not anything special - it was in many
ways like old Lee Falk stories involved with robbers and criminals and there were too
many persons involved at the end of the story´s action part. One reason was of course
that after I had finished the first part of Claes Reimerthi`s historical three part adven-
ture taking place during Queen Elizabeth I this script was the next one because there
were no second part ready to handle.
But now I wait to have it in my hands...
AND NOW I HAVE IT.
I am just going to start to make first pages of this second part of Claes Reimerthi´s
story taking in place at the end of 15th Century. This time everything happens in
Venice where William Shakespeare visited 1592 ( supposed to visit). There is also
involved an astronomer chased by Catholic Chuch and a jesuit assassin who is ac-
tually a woman. Phantom was forced to involve in the dangerous web of it all.
Some pictures will be shown here after I have them done.
There are still two finished stories from 2018 which are not yet published in Fantomen,
the story called The Icon was published April 18th, but there are still the first part of
Reimerthi´s three part adventure and the Lafitte story mentioned above.
The slow printing of my drawn Phantoms is the reason why there has not been for some
time Phantoms illustrated by me in Australian Phantom magazine of FREW. But now
they have picked a two part story from 2018 and first part has already came to public
and second one will follow soon:
updated May 9th 2019