From my early childhood, about 8-years old I started to make my first handmade magazine only for my family
to read it. From my mother´s working place I carried an old typewriter in which the small p didn´t work and
wrote simple adventure-stories in that petty handmade home publication. But the most important was that
I did draw comics of my own on the pages of it - mainly Wild West and Science Fiction which were my favo-
rites in comics, books and movies.
.Later I started other magazines when my still humble artwork was going to be better. It is a sorrow that only
a couple samples are existing nowadays from those early days. In the beginning of 60s I concentrated to make
just two magazines and those my mother did bind into annual books so them are still in my custody and I am
able to show some exambles of my drawings before I had my first comic to be printed in public in 1972.
Here I have collected some samples of pictures and comics from 60s . But first
one from my earlier childish artist period in 50s.
My first inked comic in the middle of fifties.
NOW WE CAN GO TO LATER SAMPLES FROM 60s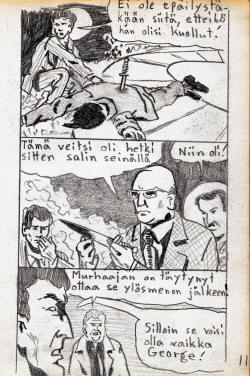 At first of 60s I still favored led pencil because it allowed me to go faster with the pictures.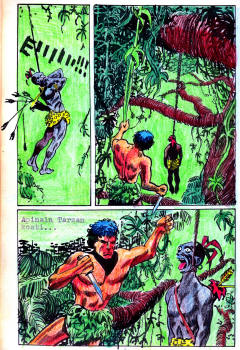 The picture on the left is not from a comic, but from my adventure novel taking place in Pacific island. The middle
is an early page from Burroughs´ first Tarzan book. The right is from my comic from Pacific based on my novel.
REST OF THE PICTURES ARE FROM LATER YEARS OF 60s AND FROM THE FIRST TWO YEARS OF 70s.
One of my favorites was Western comics, movies and books. This image
is from my own novel in my 60s magazines.
Me and my Thriumph typewriter and my film camera in 60s.
A few covers of my handmade comic magazines from late 60s and early 70s.
A page of my own comic from late 60s.
I spent most of my free time making my own magazines from 1961 till 1971 when
my professional career in comics actually started. Then I soon left my previous
main work as graphic photographer in printing house. Below is what is left from my
hobby, a heap of bound books from my magazines. A lot of blood, sweat and lost
time from my youthful...
But it educated me to my profession in comic world without outside help.